The Borneo Samariang Water Park opened it's doors on 31 March 2018 with attractions keenly awaited by Sarawakians.
Also known as the Kuching Water Park among locals, the man-made attraction is likely the best of its kind in Borneo island.
It is the biggest water park in Sarawak, and it is popular among locals since it opened its doors.
The water park is built on a 35-acre land, split into three major areas; the Water Park entrance, the Hornbill Island, the Salak Beach & Wavepool and the Santubong Tower, all of which surrounding an untouched patch of mangrove forest.
BORNEO SAMARIANG WATER PARK TICKET PRICES
Adults (13 – 59 years old) : RM30.00 (USD 8)
Children (children above 90cm – 12 years of age) : RM20.00 (USD5)
Senior Citizens (60 years and above) : RM20.00 (USD5)
DRESS CODE AT THE WATER PARK
Borneo Samariang Water Park is enforcing strict dress code for guest. According to their brochure, t-shirt, shorts and swimming attire/suit (both Muslimah swimming suits as well) are allowed to be used in the pools. Also allowed are sun suit, bikinis, swim shoes and swimming trunks.
If you intend to play in the slides, please note that eye wear such as sunglasses and google are not allowed in the slides. Other forbidden items in the slides include jewelry, buckles and studs. These items can be used in the pools.
Other type of dressings which are not mentioned above are forbidden in the pool and slides, so do dress and pack accordingly.
A summary of what's allowed and not can be seen below.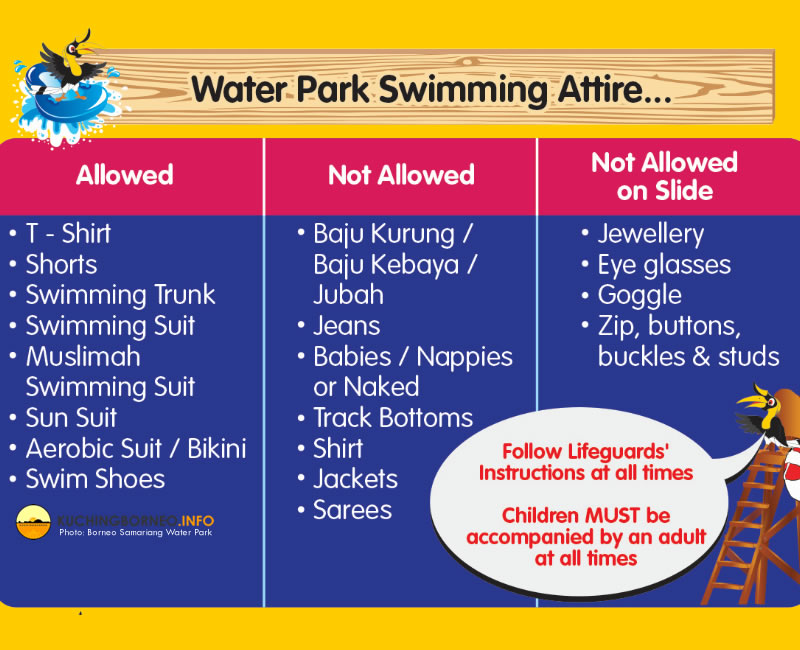 BORNEO SAMARIANG WATER PARK LOCATION
OPERATING HOURS
11AM to 6PM on Monday, Wednesday, Thursday, & Friday
9AM to 6PM on Saturday, Sunday, school and public holidays.
Closed on Tuesday EXCEPT if its a Malaysian school holiday or public holiday. During these days, they are open from 9AM to 6PM.
For more details, read here.