AEON Mall Kuching Central is the latest shopping mall in Kuching City, serving crowds nearby third mile and Batu Kawa.  It is said to rival Boulevard Mall which is located about 5 minutes drive from the new mall.
The opening of the mall on 20th April 2018 was long awaited as AEON is a well known brand across Asia. The mall is the 27th AEON malls in Malaysia, and the 35th AEON store nationwide.
If you intend to go to the mall, note that its operation hours is 10AM to 10PM daily.
HOW BIG IS AEON MALL KUCHING CENTRAL
AEON Mall Kuching Central has over 1.6 million square feet of gross built-up area, housing more than 130 retail lots spread across three floors.
There are 1,800 car park bays spread over five floors of parking, with parking reaching the roof top.  There is also basement parking.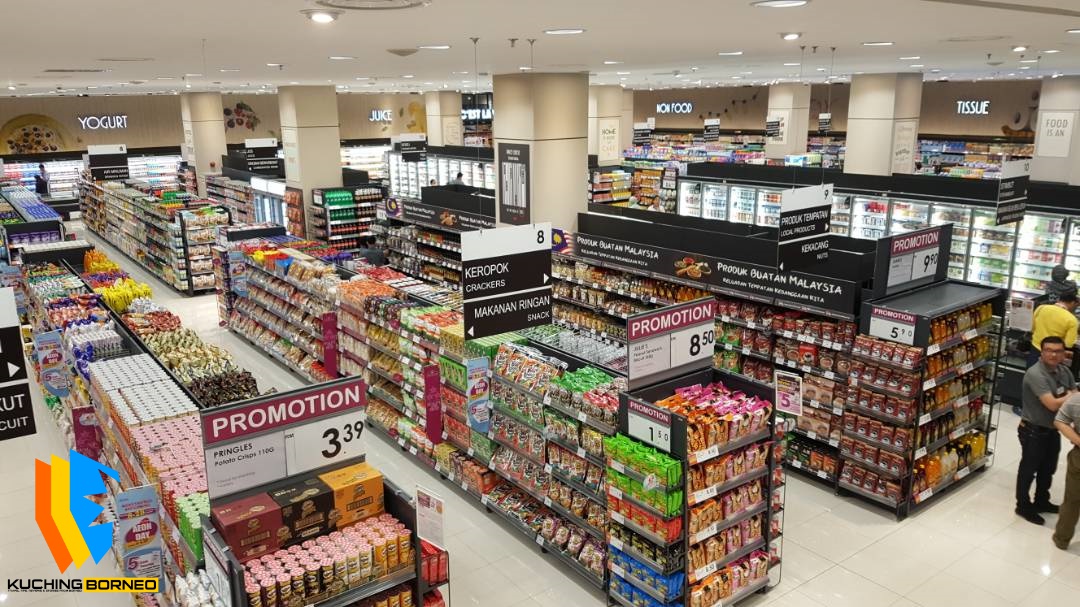 The first AEON Store in East Malaysia offers shopping experience with a wide variety of products and services such as its food and beverages (F&B) selections and Topvalu — Aeon's flagship private brand which consists of Japanese fashion, home appliances, household furnishing, groceries and garments.
Outside from the AEON Store is also interesting with AEON Mall Kuching Central also houses major clothing brands which are popular among Kuching people like Uniqlo, Bodyglove, Brands Outlet, Nike just to name a few.
Also in the list of tenants are MBO Cinemas, major F&B franchisees like Starbucks and Kenny Rogers Roasters, with other mini anchor tenants like Molly Fantasy World for kids, K11 Karaoke and Sarawak's largest chain gym brand, Level-Up Fitness also making up the list.
HOW TO GO TO AEON MALL KUCHING CENTRAL
If you are using Jalan Tun Ahmad Zaidi Adruce, you can't miss the massive AEON Mall Kuching Central which is located nearby the third mile flyover.
The Google Map to go to AEON Mall Kuching Central can be seen below, in case you need it.
During the opening of the mall, shuttle bus was provided from selected destinations around town as the mall is located some 25 minutes from hotels in Kuching city center.
TIPS ABOUT AEON MALL KUCHING CENTRAL
If you intend to go to the supermarkat, parking at the basement would be wise as it is nearest to the supermarket.  Parking anyway on the three storey parking above the mall will lead you directly into AEON Store.
Parking rates vary with members enjoying better rates.  Huge cars like 4WD can easily navigate the parking areas of the mall as parking is spacious enough.
The mall tends to be crowded on weekends, so come early if you are there for an appointment, or to catch a movie.
SHOPPING IN KUCHING
Kuching is home to a good number of shopping malls and shopping destinations, as the city slowly cements itself as a shopping paradise among locals and tourist.
The growing number of shopping malls in Kuching has grown significantly in the past ten years with the number of dedicated malls listed in out Kuching Shopping Malls guide.
For fresh groceries, Kubah Ria in Satok is the biggest wet market which not only has a huge variety of fresh jungle produce on a daily basis, but also houses the weekly and busy Satok Sunday Market.
Souvenir seekers on the other hand can check out our list of Kuching's best souvenir locations or just indulge in some perfect hotels near the beach in Kuching.